Fashion Soaked In Tradition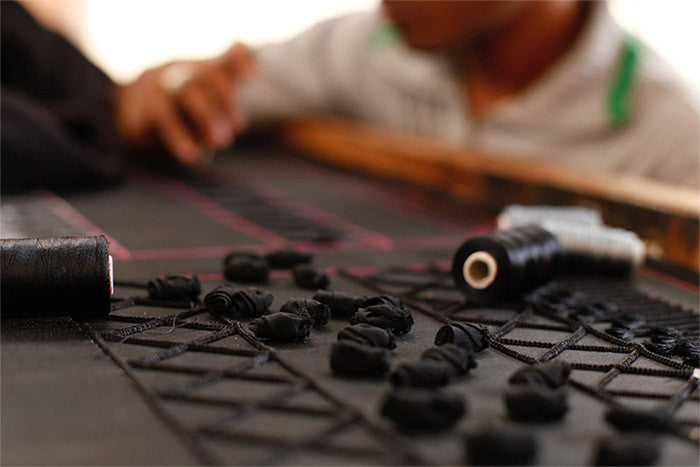 Modern practices and habits may sometimes make it hard for people of this generation to keep in touch with their traditions and cultures. Works of art which are rich in culture and pay homage to traditional values therefore comes across as a breath of fresh air. A similar freshness comes to mind when viewing Roopa Pemmaraju's designs, an Indian-origin fashion designer based out of Australia. Providing Indigenous Australian artists a canvas to express themselves, Pemmaraju incorporates these artworks in collaboration with the artists to create her own unique style of luxury fashion brand. At a time when machine produced clothes are flooding the market with their computer-enabled graphic designs, Pemmaraju has successfully managed to break free of this consumerist culture through her own designs which not only are head-turners, but has also managed to empower the artisan community by giving them a platform to showcase themselves.
The fashion industry, however, is not a kind one, with mistakes being severely punished and good work equally well rewarded. Thankfully for Pemmaraju, she has been on the right side of the judgment scale with her designs being applauded by several key figures in the fashion industry, including having been sponsored by the Australian high commission at India Fashion Week 2014. Since then Roopa Pemmaraju has managed to climb a few more rungs in the success ladder, as she also got a chance to feature her work in an Indian fashion show during a special awards function and fashion parade at the Indian Film Festival of Melbourne (IIFM), 2015. This was a platform of significant importance and recognition, as the stage was also shared by the likes of fashion heavyweights Anamika Khanna and Gaurav Gupta, while Indian actress and model Sonam Kapoor walked the ramp.
Making waves in the fashion industry, Pemmaraju continues to do her work without losing focus of what made up so much of her success; the traditional touch. Carrying forward the brand through her name 'Roopa Pemmaraju', the onus has never been higher to maintain that belongingness to a rich cultural heritage. As she looks to expand her outreach and venture into newer markets, this name is what she must strive to uphold, and for that if she continues her own good work of engaging the artisan community and working in collaboration with them, well, as they say, the sky is the limit.
---