Hand Embroidery: The Process that Makes our Masks Unique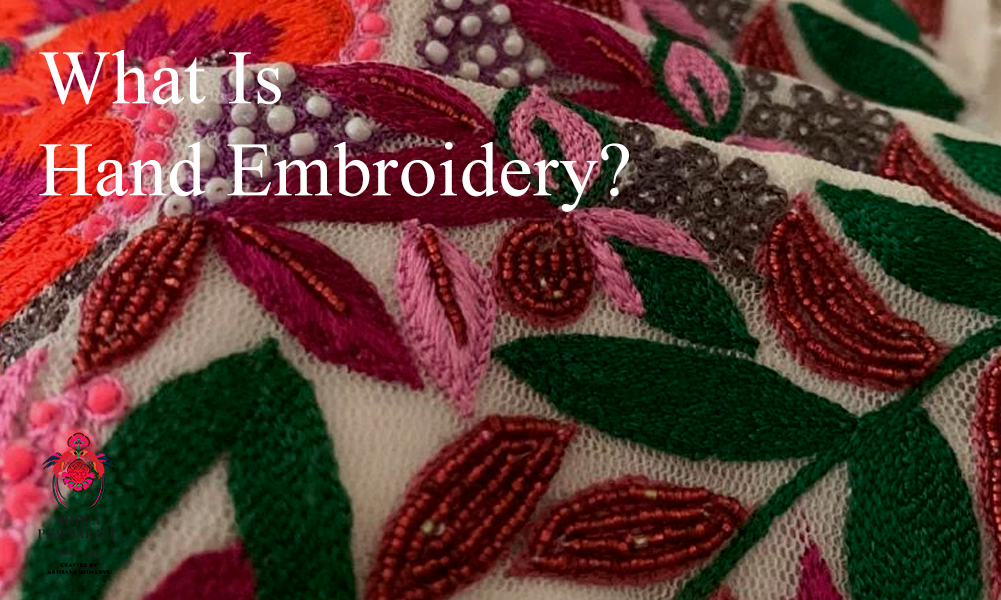 Supporting our artisans while keeping them and our customers safe is our biggest priority. In an effort to continue supporting our artisans and their families we have created a line of face masks that employ the same age-old techniques that we are known for.
What Is Hand Embroidery?
Hand embroidery is when we use thread to adorn a garment, whether it's our dresses or our face masks, with tiny beads in a specific pattern to create a larger image. Our skilled artisans use silk thread and beads next to each other to create beautiful floral motifs. As shown below an artisan is adorning our Garden hand-embroidered reusable mask with glass and varying colors of beads to create an image that looks straight out of one of the many botanic gardens around India.
Why Hand Embroidery?
Though the process is more time consuming using hand embroidery gives each and every garment with it a greater sense of character and individuality. The character and individuality really show itself in the details through the small imperfections that really tell the story of the artisan who crafted it. Along with this using hand, embroidery allows us to help our community. Giving artisans an opportunity to support themselves using their skills and allowing these centuries-old techniques to be passed down and enjoyed by the next. Creating masks allows us to continue supporting our artisans and their families during the pandemic, while still giving these men and women the chance to use their talents.
Is Hand Embroidery More Sustainable?
Yes. Another reason that we employ hand embroidery on our garments is that it is more sustainable than using a machine. We are able to save hundreds of gallons of water from being wasted by opting to utilize the hand embroidery process. 
Our Favorite Masks
Hand-embroidered Reusable Face Mask
One of our most popular masks, cut from silk and lined with cotton, features a colorful hand-embroidered image inspired by the leaves and flower petals seen in a botanic garden on top of a luxurious white or black silk background
This first video showcases the artisans hand embroidering the image onto the silk before the pattern is cut.
Here's a closer look at the meticulous details that go into creating these hand embroidered masks
Garden Hand-Embroidered Reusable Mask.
The Garden Hand-Embroidered Reusable Mask, also cut from silk and lined with cotton, really showcases the the beauty in the details of hand embroidery. Using multiple different colored beads in different hues of yellows, greens, and oranges to create a vibrant image that meshes well with printed background while still resonating the same beauty of Indian gardens that inspire us.
This video showcases the artistry and attention to detail that the artisans showcase when creating this mask having to switch between beads and glass to ensure that the smallest details do not affect the overall image of the mask.
---