Luxury Designer Face Masks to Stay Safe in Style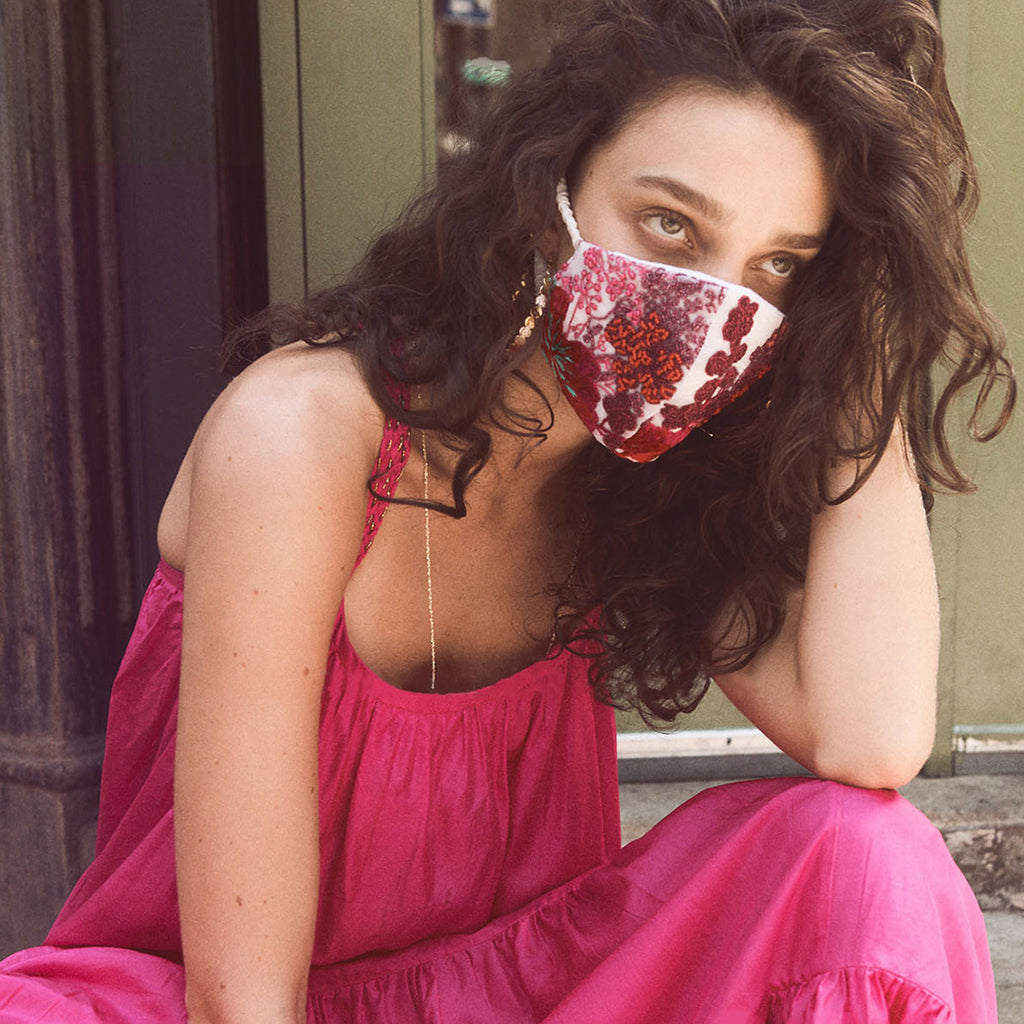 Sustainably repurposed from ethically-sourced silk, cotton, and wool, our chic and intricately handcrafted masks are designed to help you stay safe in style and elegance. Read on to discover some of our favorite artisan-made masks to add a stylish and bohemian touch to any outfit.
During the Covid pandemic, we created breathable face masks to merge luxury with eco-conscious design. Ethically made by our artisans in our Indian atelier, every purchased mask is a donation to help support our artisans and their families from the ongoing Covid-19 crisis. Our masks are also triple-layered with an opening to add your own filter, so you don't have to compromise on safety and comfort.
Inspired by the colors and radiance of garden flowers, our reusable masks come in a beautiful array of prints, colors, and hand-embroidered designs. Blossoming floral motifs and shimmery metallic silk hand embroidery adorn our vibrant masks to bring a sense of beauty and hope to these times.
One of our favorite face masks is the Handcrafted Flower Appliqué Mask, sparkling with hand-beaded detailing on floral and abstract-shaped appliqués. With glistening glass beads and intricately hand-embroidered metallic silk, this dreamy pink silk mask is finished with fuchsia braided straps and handcrafted tassels. This hand-embroidered mask also features cute fabric floral accents at the tassels—The magic is in the details!
Another glowing favorite is our Neon Bloom Recycled Cotton Mask! Infusing some uplifting and warm tropical hues into your looks, this handcrafted mask radiates with yellow, blue, and pink beads that bring its floral motifs to life. Like all of our masks, this bright floral mask is designed with a pocket opening to insert own filter. The recycled cotton fabric is breathable for your comfort, and this colorful mask is elegantly finished with ruched elasticized loops.
For a subtler, yet eye-catching look, the romantically-hued Four O'Clock Velvet Mask is handcrafted from printed silk velvet. Evocative of the romance of garden florals in the moonlight, this mask's colorful fuchsia and scarlet floral motifs contrast the shimmery onyx black velvet. This double-layered silk tie-up mask is lined with cotton fabric and features delicately dangling velvet tassels.
Infuse bold, bohemian flair to your look with the Floral Recycled Cotton Tie Up Mask, another one of our favorites. This stylish one-of-a-kind quilted mask is adorned by clusters of colorful flowers, blooming in hues of bright pink, orange, and blue. This mask is sustainably handcrafted from recycled cotton and is beautifully finished with long handmade ribbon ties.
Opulently hand-embellished with tiny glass beads and silk thread, the Floral Pink Brocade Mask is intricately crafted from handwoven pastel pink silk brocade. The soft and delicate pink hues come together with mesmerizing hand-embroidered flowers for an enchanting and luxurious look. This triple-layered reusable mask features delicate and dreamy ribbon ties that flow in the breeze.
With a wide variety of styles and colors to choose from, our collection of embellished face masks are perfect add-ons for any occasion! Shop and explore our sustainably handcrafted face masks to find your personal favorites to stay protected from Covid while supporting eco-conscious practices.
---