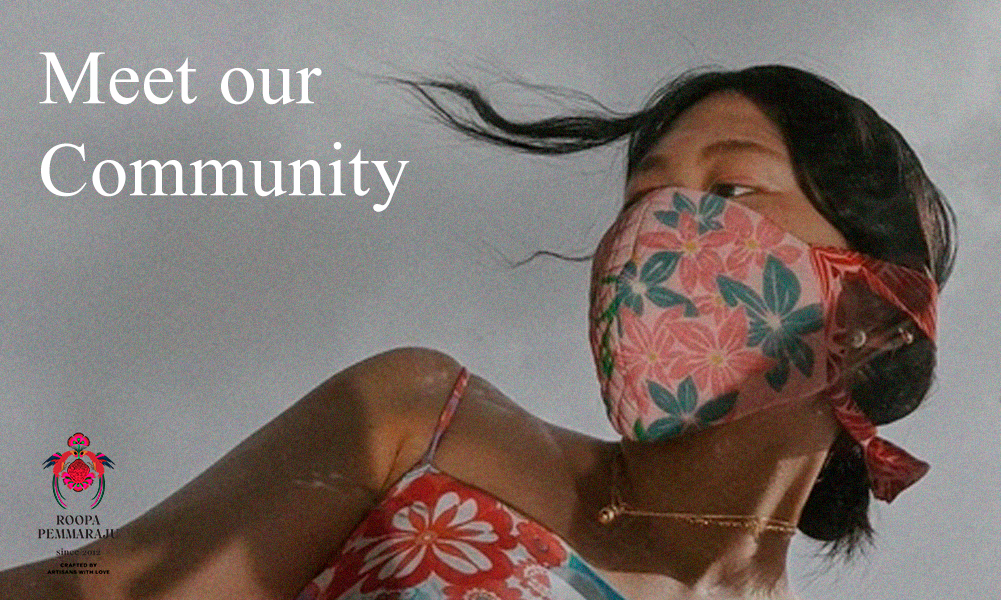 The Roopa Romantics are a group of writers, editors, bloggers, and activists who have helped support our mission in sustainability and social responsibility. We are extremely happy that this year we have been able to get our products in the hands of so many people while being able to support the skilled artisans who work extremely hard to create these works of wearable art. 
Alden Wicker
Sustainable fashion journalist and Editor-in-Chief of the publication EcoCult. Hailing from New York , Alden is one of the biggest voices in the world of sustainable fashion, Alden is wearing our Quilted Tassel Tie Up Mask. Alden uses the mask as a statement piece, beautifully matching the dress with blue accents in the pattern. Crafted from silk with hand braided tassels, the Quilted Tassel Tie Up Mask is a great statement from the tassels to the floral pattern. To purchase the mask Alden's mask click here.
Alyssa Lau
A sustainable influencer from Edmonton, Canada who boasts an impressive resume. From blogger, to activist, to business owner, Alyssa does it all. Her picture e-commerce platform New Classics Studios focuses on spotlighting ethical and sustainable brands. Alyssa is wearing our Floral Quilted Tie Up Mask. Alyssa matches the beautiful floral color scheme with a matching floral top. Shop Alyssa's mask here.
Mickey Boardman
Editoral Director of the synonymous publication Paper Magazine. Mickey has worked with some of the biggest names in fashion and entertainment. Mickey is wearing our Tassel Quilted Reusable Mask. Shop this mask here.
Aditi Mayer
Sustainability blogger and activist, who speaks out on the injustices of the fashion industry, Aditi Mayer. Aditi redefines the term "influencer" using her platform to bring good to the world. Aditi can be seen wearing our Neel Cotton Quilted Face Mask and Maxi Gown. Pairing the patterns together to showcase the beauty of the porcelain tone on tone colorway. Shop Aditi's mask here and the gown here.
Aya Kanai
Last, but definitely not least, we have the editor-in-Chief of Marie Claire Magazine Aya Kanai. Aya served as Chief fashion director of Hearst Publications where she oversaw fashion content for Cosmopolitan, Seventeen, and Good Housekeeping to name a few. Aya also served as a judge on the TV series Project Runway: Junior. It's safe to say that Aya is a very influential figure in the world of fashion. Showcasing that our masks can be worn in a more casual setting, Aya is wearing our Noir Floral Quilted Reusable mask with a simple navy t-shirt. Shop Aya's mask here.
---