New Face Masks at Anthropologie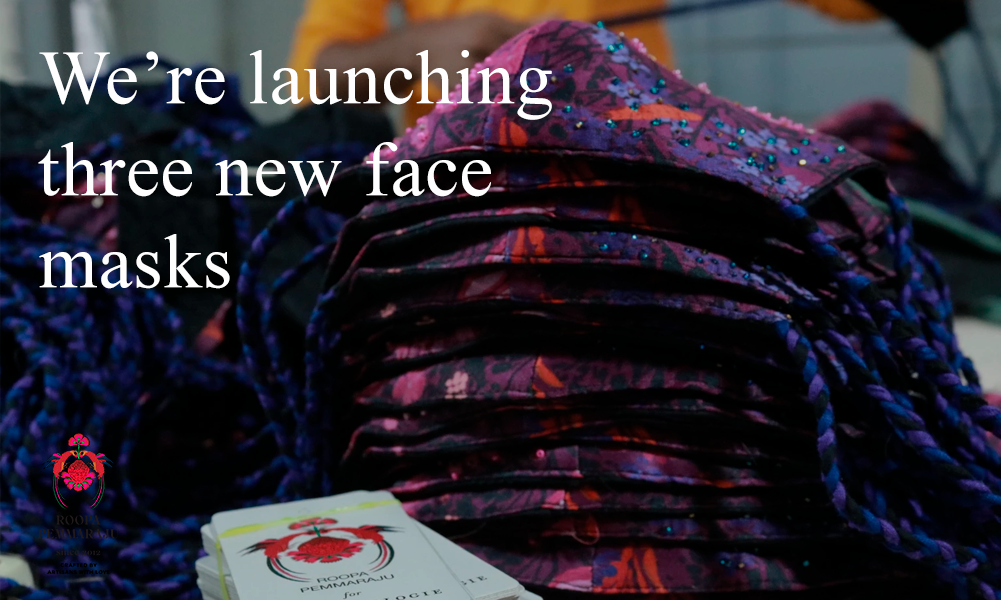 We're thrilled to announce the launch of three new face masks with our friends at Anthropologie! This collaboration has helped keep our talented artisans working during an unusual year – while also bringing you a nicely priced way to wear Roopa everywhere. All three masks are triple-layered and finished with braided straps (with tassels!) you can tie into ear loops or knot behind the head for comfort. Each has an opening to insert a filter, if you like. And, of course, every single one is hand-stitched with care.
The Quilted Tie-Back Mask
This beautiful face mask is printed with brilliant blue, green, and purple fronds against a moody midnight backdrop. Its outer layer is crafted from the softest silk, and its lining from quilted cotton. It's lightweight and effortless to wear, and its deep hues are perfect for adding color to your fall wardrobe.

The Embellished Tie-Back Mask
The rich, wine-colored print is captivating, but it's the detailed hand embroidery that makes this face mask so special. Look closely, and you'll see tiny glass beads, stitched one by one for a touch of shine on the print's fanned leaves and dragonfly wings. It's the flora and fauna of a night garden, come to life.
Shop the Embellished Tie-Back Mask now

The Velvet Tie-Back Mask
The luxurious texture of our printed silk velvet is perfect for cooler weather. With this vibrant print, we celebrate the beauty and magic of a garden that blooms in the dark. Wear this one-of-a-kind face mask and you'll bring a bouquet of hopeful blooms wherever you go.
Shop the Velvet Tie-Back Mask now
Visit Anthropologie to shop the collaboration, and explore more of our handmade face masks here. 
---