Our Favorite Dresses Available Now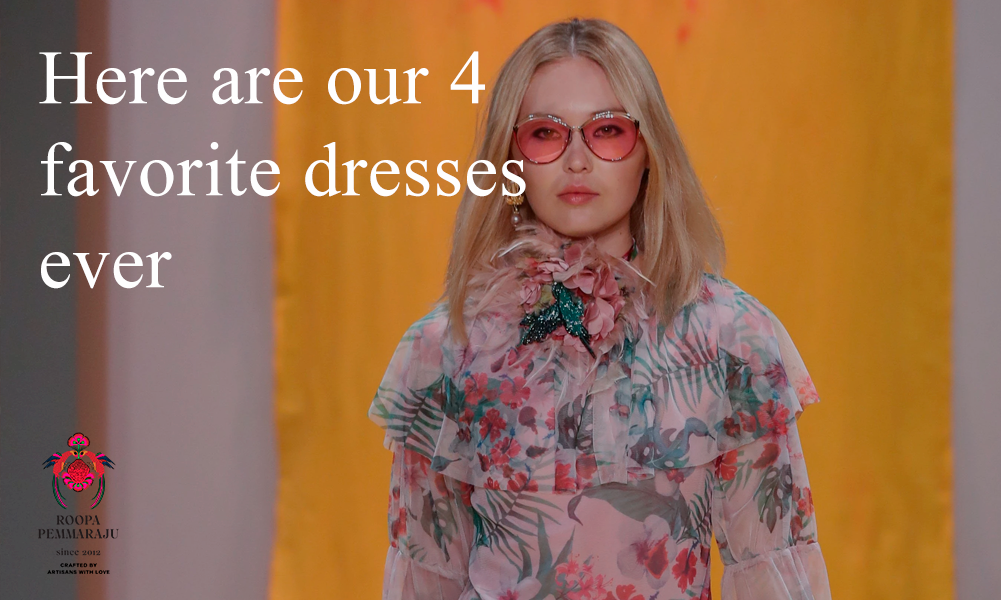 The selection of dresses from Roopa Pemmaraju are created using sustainable fibers that respect the planet, and time-tested techniques that honor Indian craftsmanship while paying artisans fairly for their craft.  From casual dresses to destination dresses, Roopa Pemmaraju's designs take pride in her indian heritage, with prints and hand embroidered imagery inspired by lush gardens and silhouettes taking inspiration from the strong women that we encounter in our communities and on our travels. With multiple diverse styles such as sari style maxi dresses and printed mini dresses. In this article were showing four of favorite dresses from past and current collections.
The Hibiscus Ruffle Neck Dress is handcrafted in a slim fit with a mini length. Featuring an incredible pink, green and red floral pattern that runs throughout the dress showcasing the inspiration of the hibiscus flower. This dress is cut from silk and features beautiful ruffle detailing, constructed using silk nylon netting, around the neck and on the skirt. The perfect dress for a casual day out.
The Pink Metallic Dress from the Indian Garden collection dives deep into the power of the woman. This metallic floral dress showcases a strong presence of pink and its many shades and is accompanied by opposing spectrum colors of blue and violet. A range of floral prints are paired with various hand embroidery and applique techniques. This metallic dress for sale has been cut from 100% handcrafted floral printed silks. This pink metallic dress features metallic hand embroidery and a layered maxi skirt with ruffle hems. This women's metallic dress is perfect for an evening event with bright colors and detailing to make a statement.
The Hydrangea Dress takes inspiration from the flower native to Asia of the same name. This maxi dress from the Australian-Indian Garden collection. This collection draws its inspiration from the vivid colors found in Indo-Australian botanical gardens, imbibing dark vivid tones from flower petals and leaves. Hand cut from hydrangea printed silk this dress features long poet sleeves and a deep v-neckline. The pattern is perfect to add a splash of color to your evening wardrobe. 
The Animal Print Silk Dress from the new Night Bloom collection focuses on the flora and fauna of a garden that blooms in the dark. Utilizing a darker color palette and pinks, purples, and blues expertly juxtaposed with black backgrounds. The animal print silk dress consists of a midnight purple and black animal print pattern that runs throughout the dress. This silk maxi dress features short sleeves and a flared skirt. This dress is perfect for changing of the seasons, a great staple piece for colder fall and winter months.
Each handcrafted dress allows us to continue supporting our team of talented artisans through their craft. Discover these dresses and more on roopapemmaraju.com, with even more colors, styles, and silhouettes available on our website.
---