Our Favorite Stylish Embroidered Jackets for Autumn and Winter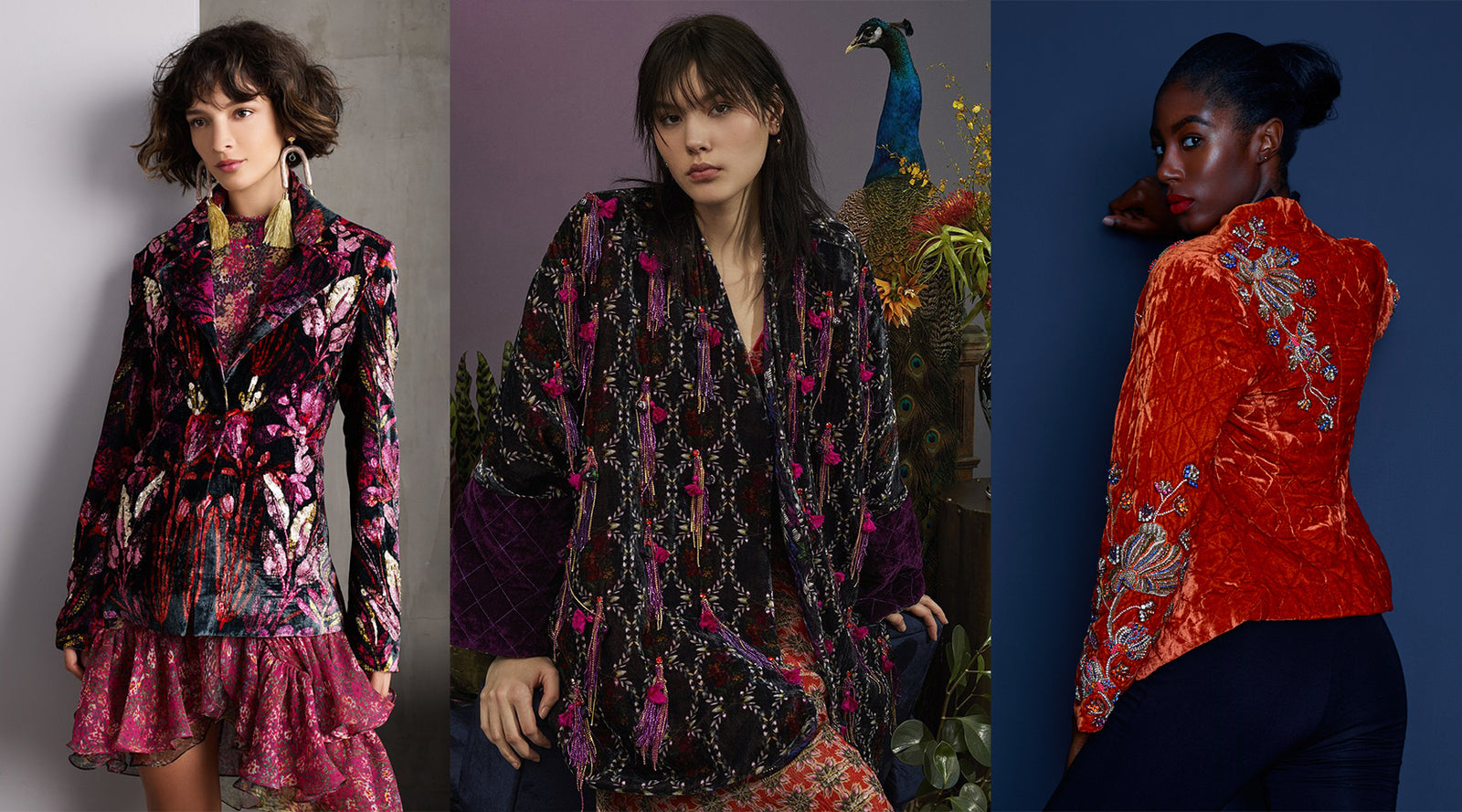 We love carrying our garden floral inspiration through the seasons! As the weather gets colder, our designs continue to fuse the beauty and symbolism of flowers with power jackets, blazers, and sleek coats. We compiled a collection of our favorite jackets that make a statement as stunning layering pieces, and celebrate women. Read on to discover more about our favorite jackets and coats!
One of our favorite jackets this season is the Hand Embroidered Printed Wool Jacket. The silk-lined jacket elegantly merges elaborate floral hand-embroidered detailing with a chic structured silhouette. Inspired by the strength of all women, the tailored structure of the wool jacket and bold floral designs evoke a feeling of empowerment. 
We also love how this long, vibrant jacket warms up any cold day with its uplifting colors and beautiful, sparkling flower embellishments. 
Another one of our favorites is the Metallic Silk Velvet Jacket. Shimmering with hand embroidered detailing and beading, this piece is perfect for layering and adding rich, deep hues of violet, fuchsia, scarlet red, and onyx black to any look. Adorned with a mystically-hued floral print, the stylish jacket evokes stepping into a romantically moonlit garden. The jacket features a flattering, fitted silhouette with a beautiful notch collar. 
Infuse your look with the bold Scarlet Embellished Silk Open Jacket! This jacket is adorned with enchantingly opulent hand-embroidery, and brings together sustainability and glamour. The entirely handcrafted jacket is created from silk velvet, and is beautifully quilted for luxurious texture and comfort. With metallic gold embroidery, and sapphire-hued crystal hand-beading, every intricate embellished detail is filled with our artisans' craftsmanship. 
The Ixora Reversible Coat is another statement piece that brings a glamorous bohemian aesthetic to any look. This jacket is handcrafted from silk velvet and features beautiful silk tassels. Intricate and delicate hand embroidery and beading adorn the jacket on both sides. The relaxed fit is flattering and elegantly flows in the breeze. We love the rich, elaborately printed florals in contrasting deep hues of fuchsia, violet, and scarlet red. This ethically-made coat features long sleeves with quilted cuffs for soft structure and comfort.
Our sustainably crafted jackets and coats are created from eco-friendly textiles and natural dyes to support the environment and reduce environmental waste. Consciously creating timeless slow fashion collections enable us to make staple pieces that are long lasting and truly sustainable.Our variety of coats and jackets are beautiful to layer outfits with, and we'd love to see how our customers style these looks!
---